Oct 4th, 2007 by admin | No Comments »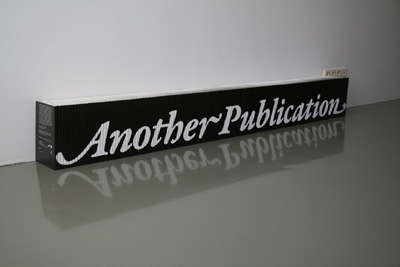 Another Publication
You can't judge a book by its cover
Official launch and symposium at Casco Projects in Utrecht, the Netherlands.
October 6th, 2007, 14:00-18:00
guest speakers:
Jan Verwoert, Frans-Willem Korsten, Marina Grzinic.
Moderators:
Katarina Zdjelar & Renée Ridgway
in cooperation with Piet Zwart Institute and Revolver Books
Another Publication is a book project around the manifold perspectives on otherness. Twelve writers were invited to contribute a text on this subject, each writing a preface to a possible book around the 'other.' Together, these prefaces trace different identifications and applications of the term, such as collaboration, love, aesthetics, institutional critique and globalisation. In addition, 82 artists were invited to submit a cover for this book and they, in turn, invited another to contribute an image for a cover. Each compilation of texts is framed by one single cover image, each in an edition of seven.
Editors: Katarina Zdjelar and Renée Ridgway
With text contributions by: Mieke Bal, Dieter Lesage, Bojana Kunst, Steve Rushton, Hito Steyerl, Nato Thompson, Thomas Michelon, Frans-Willem Korsten, Jelena Vesic, Boris Buden, Jan Verwoert, Rosi Braidotti
Graphic designer: Sander Boon
Website: http://anotherpublication.net/
Order a publication at Revolver Books
Once again, many thanks to the writers and all of the 164 image contributors for their images!
Oliver Ressler, Mieke Bal, Christoph Keller, Peter Piller, Erzen Shkololli, LIGNA, Marina Grzinic and Aina Smid, Zoran Todorović, David Maljković, Chris Sullivan, Paul Khera, Christina Erman Widerberg, Karl Persson, Raqs Media Collective, Inder Salim, Ivan Grubanov, Predrag Pajdić, Siniša Ilić, Bojan Djordjev, Ivan Moudov, Michael Hofstetter, Carey Young, Ine Lamers, Robert Suermondt, Bert Sissingh, Nalini Malani, Nourit Masson-Sékiné, Diego Ferrari, Mr. Chankyong Park, Wendelien van Oldenborgh, Diego Bruno, Craig Coulthard, Philip Provily, Chad McCail, Biljana Djurdjević, Jos van der Pol, Maurice Bogaert, Melvin Moti, David Maroto, Antoine Prum, Holger Nickisch, Liesbeth Bik, Stefan Saffer, Monali Meher, Renzo Martens, Banu Cennetoglu, David Kellner& Ivan Jurica, Frank J.M.A. Castelyns, Roland van den Berghe, Kara Hamilton, Johan Waerndt, Sanjeev Sinha, Hans Bernhard, Nancy Bleck, Odili Donald Odita, Tere Recarens, Durga Kainthola, Servullo Mendez Rey, Hinrich Sachs, Olaf Probst, Tamuna Chabashvili, Betsy Green, Anneke A. de Boer, Sandra Semchuk and James Nicholas, Christiaan Bastiaans, Carlos Aires, Joseph Semah, Duba Sambolec, Delphine Bedel, Caecilia Tripp, Natasja Straat, Melanie Carvalho, Alireza Rasoulinezhad, Ni Haifeng, Caterina Pecchioli, Matthijs de Bruine, Margret Wibmer, Peggy Buth, IRWIN, Group OHO (1966 – 1971), Katrin Plavcak, Marieken Verheyen, Eduardo Molinari / Archivo Caminante, Simon Ferdinando, Susan Kendzulak, Abrie Fourie, Shaheen Merali, Basekamp, Thomas Buxó, Mark Zirpel, Klaas van Gorkum & Iratxe Jaio, Tina Aufiero, Mounir Fatmi, Sylvia de Swaan, Kenneth R. Vick, Masist Gül, Hung-Chih Peng, Els Vanden Meersch, Sonia Balassanian, Anita Di Bianco, Libia Castro & Ólafur Ólafsson, Maria Dumlao, Tiong Ang, Stefan Bohenberger, Charlie Citron, Ella Klaschka, Cecilia Mandrile, Sandra Stephens, Stephanie Benzaquen, Judi Werthein, Remy Jungerman, Arthur Neve, Mary Ellen Carroll, Sharmila Samant, Raul Marroquin, Risk Hazekamp, Tushar Joag, Dawn Woolley, Radcliffe Bailey, Marietheres Finkeldei, Berend Strik, Desiree Palmen, Albert Weis, Thomas Lenden, Mark Brogan, Franco Angeloni, Karolina Freino, Marisa Jahn & Steve Shada, Shunji Hori, Serkan Ozkaya, Stani Michiels, Lisa Holden, Ayreen Anastas, Luisa Kasalicky, Rene Gabri, Astrit Schmidt-Burkhardt, Rob Birza, Guerilla Girls, Mohamed Abdulla, Rachel Wilberforce, Steve Lambert, Isabel Cordeiro, Sal Randolph, Kathe Izzo, Orgacom, Bert de Muynck, Naomi Tereza Salmon, Lucia Zegada, Atone Niane, Manon de Boer, Paul Carter&Paul Gray, Rodrìguez foundation, Birgit Knoechl, Mark Booth, Fendry Ekel, Joachim Stein, Nasrin Tabatabai, Miloš Lolić, Naro Snackey, Josiah McElheny, Adi Hollander, Eitan Ben Moshe, Ana Dzokic, Corinne Gambi