May 13th, 2009 by admin | No Comments »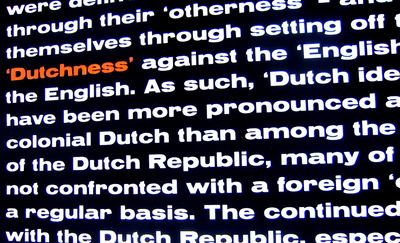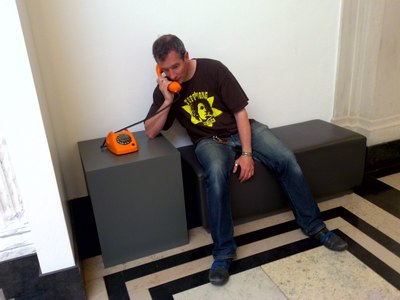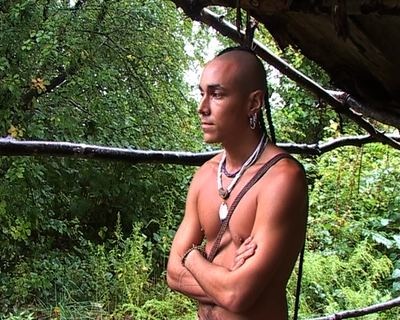 Holland Mania 
Opening May 16, 2009
Museum De Lakenhal and Scheltema in Leiden, the Netherlands announce the exhibition Holland Mania from May 16th to August 31, 2009. Eight artists are invited to reflect on the American and Japanese pictorial image of the Netherlands. The most recent instalment of my Manhattan Project looks not only at 400 years of Dutch colonial settlement in the United States, but the city of Leiden- 400 years after the Pilgrims settled and eventually departed to the new world. What types of images are conjured up through literature, historical texts, remnants of the past and oral traditions?
Using the museum context as a background with its collection of historical exhibits, prints, paintings and objects, this series of works gathers a range of perspectives in regard to constructions of identity, in the form of 'Dutchness' as well as contemporary Wampanoag peoples.  Imagery consists of a Pennsylvania Dutch quilt designed by the Amish yet composed from the Dutch and American flags. Dial Dutchness is an installation throughout the museum incorporating Leiden telephone book pages and eight multi-coloured PTT T-65 telephones with audio tracks from locals as well as Americans with Dutch last names. These 'vox populi' voices are contrasted in Pillars of Orange-expert opinions presented as literary silk-screened excerpts from literature, music and academic texts as if for an imaginary book on 'Dutchness', contrasted by real books from the secret Pilgrim Press. In the chapel of the museum the installation Wampanoag uses the existent paintings and objects as a staging for two drawings and a single channel video projection where the Wampanoag do not re-enact but rather answer specific questions regarding 17th century conventions, oral histories and the contemporary usage of wampum.
The museum has also kindly offered me a studio during the exhibition as an impromptu call centre in which to continue my Dial Dutchness installation as well as work on my forthcoming online platform Beaver, Wampum, Hoes. Please let me know if you plan on coming to visit or if I should call you instead.
For those Dutch readers the Holland Mania website.