Feb 21st, 2008 by admin | No Comments »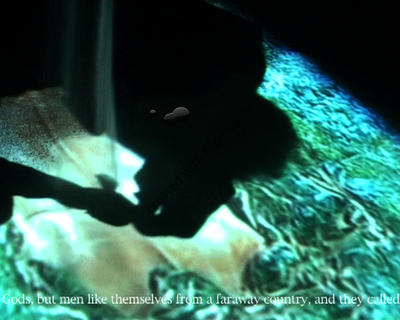 Holding an Angle
Videoscreening of works by international artists
Saturday, February 9, 2008
at the Cacao Fabriek Helmond, the Netherlands
This site-specific context of a former chocolate factory was the place of a series of screenings by various artists.
Curated by Lieke Snelling and Ruth Legg
Skin Deep
single channel projection
12 minutes
2008
In this video the topics addressed deal with land and sovereignty. The value of the currency, in this case embodied by the possession of land, is continuously increased and decreased over time. Land here is currency as well as the material salt and is determined by gains and losses. In this case, time is the length of the video, reflected here through the action/ritual by a performer replacing an area of the projection (light) with salt. This crystalizes the image, so to speak, allowing it to be seen; the video becomes visible. The video is Native New Yorkers, a one-minute loop showing a time-lapse of an entire piece of deerskin (as a metaphor for land) being cut up, unravelling.