Aug 10th, 2007 by admin | No Comments »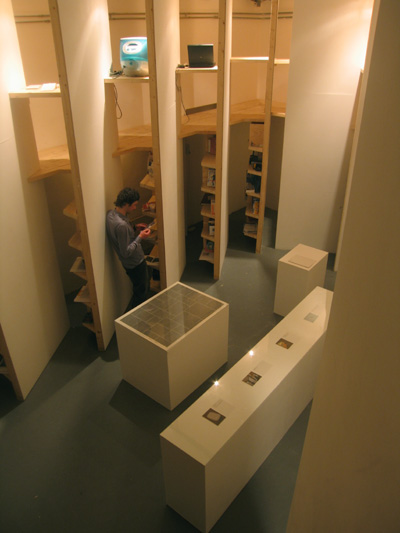 Beauty Unrealized
Public Space With a Roof (PSWAR)
Closing of PSWAR! Protest
Project initiated by: Tamuna Chabashvili, Adi Hollander, and Vesna Madzoski
The seventh and the final part of Beauty Unrealized focuses on collaborations between artists working in different mediums who reflect on basic parameters and limitations of individual mediums in which they usually work.
As a framework for the whole project, PSWAR created a special library in which visitors can enter and get lost in the world of thoughts, ideas, questions, possibilities, and puzzles. For this library, PSWAR invited numerous individuals (artists, filmmakers, writers, theoreticians, etc.) to submit items that have significantly influenced them and their work.
Inspired by Aby Warburg, this library is collection of questions rather than a repository of books, involving not objects but the tension, analogies, contrasts, or contradictions among them. Its inside was used to host six separate exhibitions where the invited artists will present their past works, works in progress, or works produced especially for this project.
Library installation created by: Tamuna Chabashvili and Adi Hollander
Constructed by: Mathijs Lieshout, Davide Manzoni and Maurice Bogaert
Advising architect: Ofri Earon
Location: Public Space With a Roof, Overtoom 301, 1054 HW Amsterdam. During the exhibition the project space is open Thursday to Sunday 3pm – 7pm or by appointment.
For further questions please email to pswar@xs4all.nl
Closing of PSWAR! Protest! Saddened by the news, PSWAR has served as a platform for cultural knowledge production activities the last three years. We will miss them!
Beauty Unrealized Weblinks
404